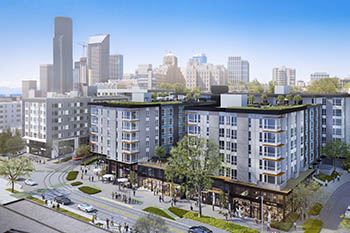 Cypress
Grand opening at Yesler: Cypress
Event date:
Friday, Jun 28, 2019 -

5:00 pm

to

7:30 pm
Address:
Cypress
Fir Street and Broadway pocket park
Description:
Celebrate an exciting new phase at Yesler. Join us for grand opening of Cypress, Vulcan Real Estate's new residential building at Yesler; the Fir Street and Broadway pocket park and art installations; and SHA's Red Cedar 
Community celebration and supper; building tours
Don't miss the Grand Opening of Red Cedar, Seattle Housing Authority's newest residential building, earlier in the day.
* * *
With the help of residents, neighbors, city officials, citizens, and community and development partners, the Seattle Housing Authority is redeveloping Yesler Terrace, a 30-acre site near downtown Seattle. The  new Yesler is taking shape as a modern, mixed-income community that honors the neighborhood's history and cultural richness while creating safe, healthy and sustainable affordable housing, attractive new parks and open spaces, increased transportation options and enhanced economic opportunities.