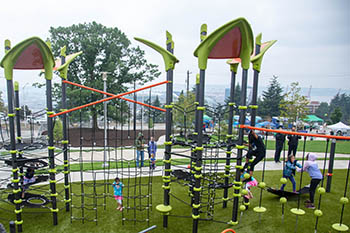 Seattle Parks & Rec Fest
Location:
Yesler Terrace Park & Community Center
Description:
On June 9, 2019, Seattle Parks and Recreation will be producing a special event in the Yesler neighborhood called Parks & Rec Fest. SPR selected this location because of its central location and our hope is to welcome residents from all around the City to our new park and into our community center.
Please note that we will be closing South Washington Street between Yesler Way and 10th Avenue South from 6:00 AM to 4:00 PM on June 9th. Please move your vehicle before this time to avoid being towed.
EVENT DESCRIPTION:
Event hours are from 10:00 AM – 3:00 PM.

We will be loading in beginning at 6:00 AM, and will load out until 4 PM.

We will leave your neighborhood as we found it:  litter and recycling will be handled by Seattle Parks and Recreation.

During the event hours, we expect between 500 – 750 attendees.

We are planning to close South Washington Street to vehicles between the hours of 6:00 AM on June 9, 2019 through 4:00 PM on June 9, 2019. Please plan for alternate parking arrangements.
We will have amplified outdoor sound throughout the event, with a mix of pre-recorded and live music, near the community center.
We are working closely with the City of Seattle Special Events Committee to minimize the impacts of the event.  Our goal is to create an enjoyable and positive experience in your neighborhood. 
If you or any of the surrounding residents and businesses have questions or comments about impacts of this event, please email us at:
Rachel Schulkin, Communications Manager                                  Chris Swenson, Chair         
Seattle Parks and Recreation                                                            City of Seattle - Special Events Office
100 Dexter Avenue N                                                                          PO Box 94708     
Seattle, WA 98109                                                                              Seattle, WA 98124
rachel.schulkin@seattle.gov                                                             chris.swenson@seattle.gov
\