New website designed by and for SHA youth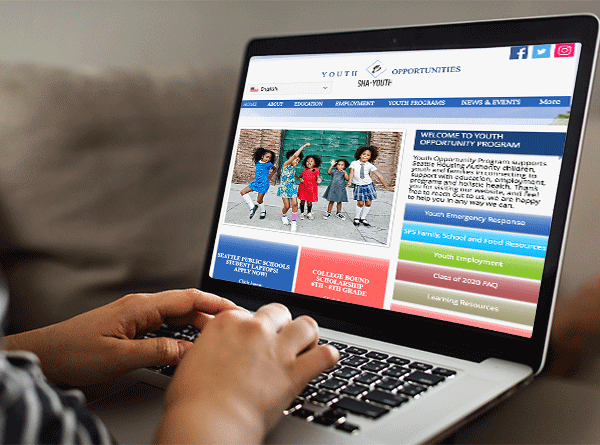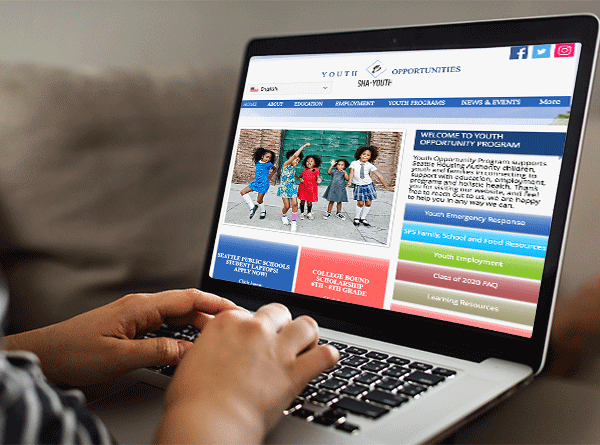 Unity Builds Community is a program Youth Engagement Specialist Ty Edwards oversees in SHA's NewHolly community. It also aptly describes the development of SHAyouth.org, a new website designed by teens to support each other during the coronavirus pandemic.
Edwards regularly works with young people at NewHolly and Rainier Vista to create learning opportunities, develop community projects and help kids set personal and academic goals. When Gov. Jay Inslee's "Stay Home, Stay Healthy" order went into place, Edwards knew he needed a way to keep youth engaged as they faced new challenges and uncertainties.
As the recipient of many emails from service providers, Seattle Public Schools, city officials and other organizations responding to COVID-19, he also needed a way to quickly share information and resources with youth and their families.
His solution was to create a website. But he wanted the youth to help build it.
Edwards knew the youth would respond to the challenge and could draw on their previous experience developing and launching programs. The only difference was they would need to team up digitally instead of in person.
Under Edward's guidance, youth leaders and SHA's Education and Youth Development team began collaborating to develop SHAyouth.org.
In their first planning session, youth shared their vision for the website design and structure. "They wanted it to have big buttons, bright colors, be straightforward and not include too much writing," Edwards said.
They designed the homepage to prominently feature mental health, education, employment and other important resources.
The education section is robust. "School is the most important part of their lives," said Edwards. K-12 resources, K-8 math lessons and special education resources populate the page. A special guide features content, activities and strategies to help parents keep young people engaged academically, creatively, socially and emotionally during school and program closures.
Middle school and high school students can learn about projects they can participate in to earn money, job opportunities and recreational activities. The site features an online games league, a digital storytelling workshop, music projects, Girls Who Code At Home and other programs.
Community-specific information is available for High Point, Lake City Court, NewHolly, Rainier Vista and Yesler residents.
The message that Edwards wants to get out to parents is that their kids now have a site where they can get information for themselves. "Kids identified what they wanted to have on the website. It is addressed in the way that they wanted it addressed. There is a resource out there for them."
SHAyouth.org is an independent website from Seattle Housing Authority's website. The site was designed by and is maintained by youth living in SHA communities. SHA supports this youth-led effort, however, SHA's website administrator does not verify the site quality or content.