In remembrance of the Reverend Dr. Martin Luther King Jr.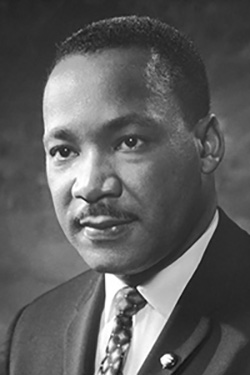 Reverend Dr. Martin Luther King Jr.
A message from SHA's Executive Director Andrew Lofton
Jan. 15, 2021
Dear SHA Community,
Today, January 15, is the birthday of the Reverend Dr. Martin Luther King Jr. As we prepare to celebrate his extraordinary life and remarkable achievements, let us all take a moment and reflect on the tremendous contributions he made to our country, our lives and our society – contributions recognized by a national holiday in his honor, the only non-president bestowed with such an honor.
Dr. King's eloquence, so beautifully evident in his speeches, is perhaps exceeded only by the power of his ideas. His life was dedicated to non-violence and he was a towering force speaking out for equality, justice, opportunity and dignity for all people. As Dr. King said in his Letter from Birmingham Jail, "Injustice anywhere is a threat to justice everywhere."
In honoring Dr. King's birthday, we honor his courage. And we honor the courage of legions of other Black people before, during and after Dr. King's time who have sacrificed and put themselves at risk to speak out and work for what is right – a society that recognizes and supports the humanity and fair treatment of all people of all races, ethnicities and color. As a Black man, I am a direct beneficiary of that courage and sacrifice. As part of society, I believe we all are.
Dr. King was motivated by a dream "rooted in the American dream." He spoke of a nation where people are "not judged by the color of their skin but by the content of their character." His life's work brought about profound progress. Yet over the past year and past few days, almost 53 years after Dr. King's death, we have been witnessing stark reminders of how far we still must go to achieve Dr. King's dream. The commemoration of his life is an opportunity for us to be inspired by his accomplishments, and to reflect on the work that lies ahead if we are to achieve the dream of a fair, free and democratic society, inclusive of all.
How each of us reflects on the words and actions of Dr. King and reacts to what is happening in our nation today is personal. I do believe, however, that our SHA community of staff, tenants, partners and friends is united by core values of kindness, fairness and respect.
On this day and through the Martin Luther King holiday on Monday, January 18, I hope you find some time to absorb its meaning and think about what Dr. King's legacy might teach us about our nation today and your part, whatever form that takes for you, in bringing our society closer to the dream.
I know the past year and past few weeks have been stressful in so many ways. But we cannot let that discourage us or let it relegate us to being merely outraged observers. We are strong and capable of being part of the healing and growing that is needed to keep the vison for a better society alive. A half century ago Dr. King said, and it is as true as ever today, "We must walk on in the days ahead with an audacious faith in the future."
Thanks to all of you who are part of this journey.
Andrew Lofton
Executive Director
Seattle Housing Authority