01.24.2023
City of Seattle distributing free ORCA Cards to more than 10,000 Seattle Housing Authority (SHA) residents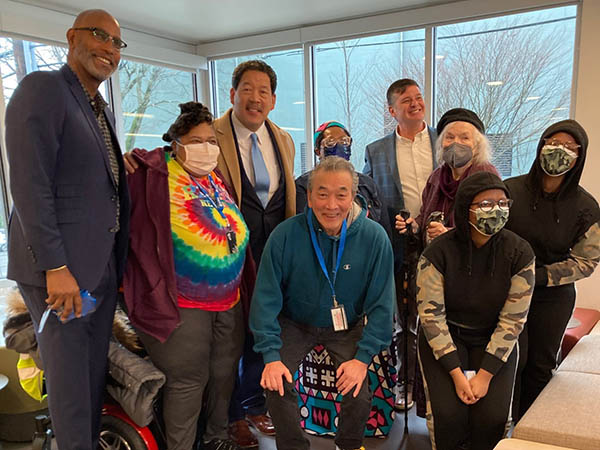 SHA Executive Director Rod Brandon, Seattle Mayor Bruce Harrell and SDOT Director Greg Spotts joined Seattle Housing Authority residents on January 24 to celebrate the SHA Transit Pass program.
Partner news release
Providing free, unlimited-ride ORCA cards to SHA residents encourages people to take transit while saving money
Seattle (January 24, 2022) – The City of Seattle is partnering with the Seattle Housing Authority (SHA) to provide free unlimited-use ORCA cards to all residents living in SHA-owned and managed housing through December 2026. This pairing between an affordable housing program and an accessible public transit initiative is the first of its kind at this comprehensive scale in the United States. The SHA Transit Pass program will benefit more than 10,000 SHA residents by helping them save money on transportation and encouraging increased transit use.
This three-year program removes the cost burden of transit for residents in affordable housing. The fully subsidized ORCA cards are funded by the Seattle Transit Measure, a voter-approved sales tax that expires in April 2027. The program offers a benefit to every person who is 19 years old or older and listed on the lease of an SHA property (anyone 18 or younger may already ride transit for free). The unlimited-ride ORCA cards benefit expires on December 31, 2026. 
The expansion will serve 99 unique SHA properties and communities, more than 7,300 households, and over 10,000 residents. Access to free ORCA cards will provide residents with reliable, convenient, affordable transportation options to meet their needs, from medical appointments to essential services.
Our goal is to create a more resilient, sustainable city, with accessible transit for all. Investing in transportation programs – like the SHA Transit Pass – helps make progress toward greater sustainability.
The SHA Transit Pass program began in 2019 as a pilot program on a smaller scale and has served nearly 2,000 SHA residents over the last three years. The program joins other SDOT fare subsidy programs, such as the ORCA Recovery Card program which provided free, unlimited-use cards for more than 2,200 people working in food service and grocery industries in Pioneer Square, Chinatown-International District, Rainier Beach and Othello.
The SHA Transit Pass will build on the robust success of the ORCA Recovery Card; 91 percent of ORCA Recovery Card holders used transit more frequently than they did before receiving their ORCA Card, according to a survey conducted by SDOT. SDOT also manages the Promise Scholar Transit Pass that provides fully subsidized ORCA cards to 1,300 Promise Scholars at Seattle Colleges.
SDOT's fare subsidy programs are possible thanks to 80 percent of Seattle voters passing the Seattle Transit Measure, which created a revenue source for more frequent, reliable, accessible bus service in our city. Through a 0.15 percent sales tax (the equivalent of 15 cents on a $100 purchase), SDOT is expanding opportunities for neighbors across Seattle through a more sustainable transportation system.
SDOT is distributing the ORCA cards from January 24 to March 4 to residents with on-site interpretation in 14 languages.
Quotes:
"Our vision for a vibrant Seattle is dependent on a sustainable transportation system where neighbors can get where they need to go swiftly, reliably, and affordably. The SHA Transit Pass equitably expands access to opportunity and helps us meet our sustainability goals through a simple – and proven – premise: Given increased access to free and affordable transit, neighbors will take advantage. As we work to create connected neighborhoods that are easy to get around, partnering SDOT and SHA represents a One Seattle approach, aligning our shared values and working together to improve outcomes for our residents." – City of Seattle Mayor Bruce Harrell
"By providing free ORCA cards, we are making it easy for public transit to be a great choice for residents of Seattle Housing Authority properties. Previously we saw great results increasing mobility by providing free transit for youth: we believe this program will increase transit ridership while reducing greenhouse gases." – Seattle Department of Transportation Greg Spotts
"The Free Youth Transit Pass that provides access to all young people up to 18 years old, has made a big difference for young residents at SHA. This new partnership between the Seattle Department of Transportation and the Seattle Housing Authority to offer adult SHA residents free access to public transportation throughout our region opens up the world to entire families as well as seniors, veterans, people with disabilities, and others living in SHA communities. Most of those we serve have to make difficult choices on how to spend limited budgets. Now they can get to jobs, school, medical appointments, the grocery store and other important activities without worrying about the cost. The free ORCA passes represent a tremendous improvement in safety, access to basic services, ability to get to jobs and overall quality of life for our residents." – Seattle Housing Authority, Executive Director Rod Brandon
"My family has never been on a train (any rails), ferry, let alone a streetcar, and have never seen so many different forms of transportation! Not only do we want to discover where and what different places can be discovered, but my goal is to ride every King County Metro Transit bus, etc. so that we can see and explore the locations of where the transportation begins, ends, and where they go." – Moxie Hubbard Shirley, Yesler resident
"The free ORCA card will allow me to go doctor appointments, shopping, school, and training programs without worrying about how I will get there. Thank you for this ORCA program. You will be helping many people who are thankful and grateful for the program." – Qween'B King-Rios, Yesler resident