Community celebrations mark completion of a new phase at Yesler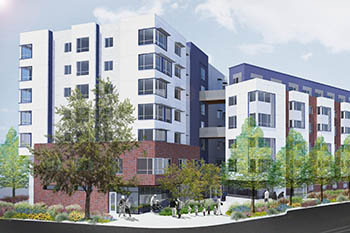 Red Cedar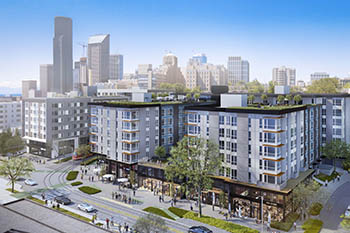 Cypress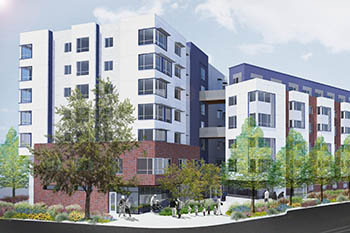 Red Cedar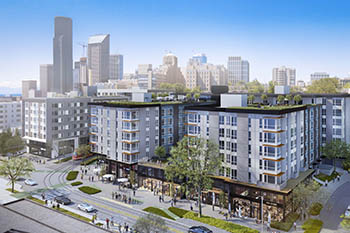 Cypress
Media Release
SEATTLE—June 20, 2019—The public is invited to join two celebrations at Yesler, a neighborhood near downtown Seattle that is being redeveloped by the Seattle Housing Authority into a vibrant, new mixed-income community.
On Friday, June 28 from 10:00 a.m. to noon, there will be a Ribbon Cutting ceremony at SHA's newest residential building at Yesler, Red Cedar. The program will include remarks by Mayor Jenny Durkan, other community leaders and a new resident of Red Cedar, followed by hosted building tours. Red Cedar is located at 808 Fir Street in Seattle.
In the evening on Friday, June 28 from 5:00 p.m. to 7:30 p.m. there will be a community gathering and supper, and building tours, to celebrate the opening of Red Cedar and Cypress, Vulcan Real Estate's new residential building at Yesler. The event will take place in a new pocket park at the corner of Fir Street and Broadway, where artist George Lee will unveil a "community table" work of art. 
With the completion of Red Cedar, SHA's fourth new residential building to open as part of Yesler redevelopment, SHA is more than halfway toward replacing all 561 older Yesler public housing units with new apartments for low-income residents. In addition to replacing all of the older units, more than 1,000 additional affordable homes will be built, along with more than 2,500 market-rate rental apartments developed by private development partners.
Yesler Terrace was the city's first public housing, built in 1940 by the then newly established Seattle Housing Authority. The redevelopment of Yesler Terrace began in 2013 after SHA, with the help of a Citizens Review Committee comprised of Yesler residents, surrounding neighbors, city officials, nonprofit service partners and citizens at large, shaped a plan for replacing Yesler Terrace's aging housing and deteriorated infrastructure with a new community for Yesler residents and people across a spectrum of income levels.
Amenities in the transformed Yesler neighborhood include a large central park with views of Mt. Rainier and Puget Sound, a fully accessible pedestrian pathway connecting Yesler with adjacent neighborhoods, the Yesler Hillclimb joining Yesler with Little Saigon and the Chinatown-International District, a green-street loop with exercise stations, public art, pocket parks, community gardening plots and a new streetcar line. The community is continuing to expand its wide range of services for low-income residents to help them with increased educational, health and employment opportunities.
Red Cedar was named to honor the Western red cedar tree that has provided bark for clothing, canoes and other important Northwest native uses for centuries. The building has a total of 119 apartments, a community room, a central play area and courtyard, community services space and SHA Yesler property management offices. There are accessible units for people with disabilities as well as "Breathe Easy" apartments, designed for people with asthma and other respiratory problems. The building has energy-efficient appliances, windows and lighting, and other features consistent with environmental and sustainable building standards.
Cypress, at 120 Broadway, was developed by Vulcan Real Estate and features 237 apartments, with 48 designated to be affordable for households earning 65 percent to 80 percent of Area Median Income.
Yesler redevelopment is supported in part by a grant from the U.S. Department of Housing and Urban Development's Choice Neighborhoods Initiative, funding from the City of Seattle and JPMorgan Chase, and select property sales to private developers. Construction of Red Cedar was made possible by funders JPMorgan Chase, Wells Fargo Bank, the Washington State Housing Finance Commission and the City of Seattle. The contractor was Andersen Construction and SRG was the architect.
SHA's first new residential building at Yesler, Kebero Court, opened in mid-2015, followed by the second, Raven Terrace, in early 2016 and the third, Hoa Mai Gardens, in 2017. SHA's fifth new building, currently in design, is Hinoki. It will feature 139 apartments for people with low incomes and is scheduled to open in early 2021.
Media contact:
Kerry Coughlin
Seattle Housing Authority
kerry.coughlin@seattlehousing.org
206.615.3506