Holly Park replacement housing completed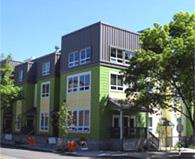 SEATTLE—May 23, 2007—Replacing more than 800 units of low-income housing in Seattle is no easy task, but Seattle Housing fulfilled its promise this month by doing exactly that, as part of the revitalization of the former Holly Park housing project.
As of the beginning of May, all of the 871 low-income housing units originally located at Holly Park have been replaced and made available at NewHolly and throughout the city to individuals and families earning below 30 percent of area median income.
Relocation of the original Holly Park residents affected by redevelopment was completed back in April 2002. It was not necessary for all of the new units to be completed in order to provide housing for the original Holly Park tenants who needed it.
The final step in the replacement process was achieved last month with the completion of three new buildings—the Stone Way Apartments in Wallingford, Broadway Crossing on Capitol Hill, and One Community Commons in West Seattle—and the opening of their doors to eligible low-income residents.
The Stone Way Apartments feature 35 units available as replacement housing, including eight one-bedroom apartments, 17 two-bedroom units, and 10 three-bedroom residences. Ten two-bedroom Broadway Crossing units are available, along with seven two-bedroom apartments at One Community Commons.
The other 819 units of replacement housing—including 400 on the original Holly Park site, now redeveloped as NewHolly—are sited among 31 locations in a diverse range of neighborhoods across Seattle.
The replacement housing process for Holly Park reflects Seattle Housing's commitment to maintaining an equal or greater number of housing units for low-income residents before and after its HOPE VI-funded redevelopment projects.
"Meeting our replacement housing obligations is our highest priority," explains Al Levine, Seattle Housing's deputy executive director of development. "Seattle Housing is unique among housing authorities in the HOPE VI program in committing to one-for-one replacement housing for every unit. We take this commitment very seriously."
Although revitalization may result in fewer low-income households in a specific community, Seattle Housing maintains or expands the overall number of units available throughout the city to people making less than 30 percent of area median income.
These units are required to be specific, identifiable housing—Section 8 Housing Choice Vouchers that can be used in the private sector do not meet this requirement—and must be guaranteed to be available to extremely low-income tenants well into the future, generally no less than 40 years.
The nature of these replacement housing units can vary from the typical perception of public housing. Instead of being owned and operated by Seattle Housing, units may be under the management of non-profit housing groups subsidized by Seattle Housing.
Such is the case with each of the three buildings opened this past month. The Stone Way Apartments are owned by Housing Resources Group, while Capitol Hill Housing owns Broadway Crossing. The Delridge Neighborhood Development Association manages the One Community Commons complex.