A celebration of a life well-lived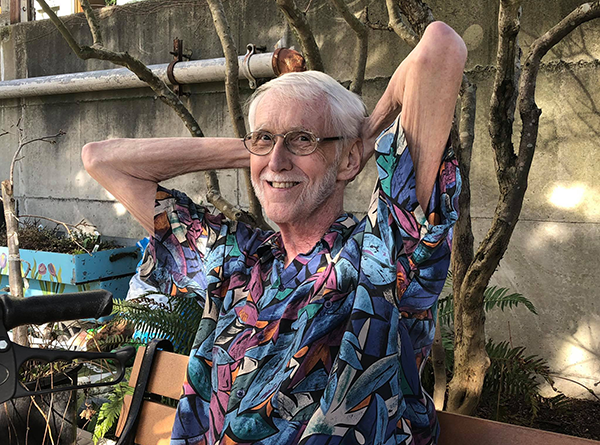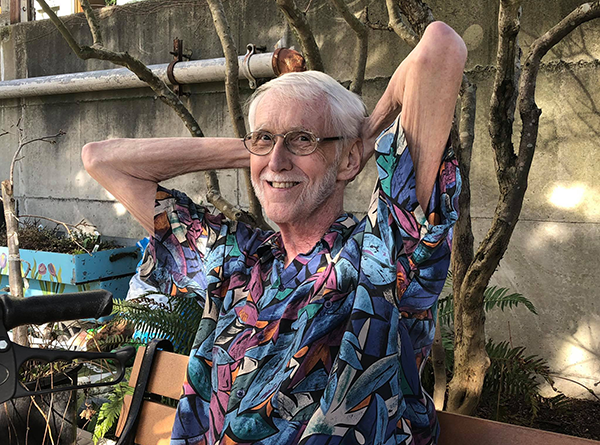 By Nelson Dahl, an SHA Resident
An extraordinary event happened at Primeau Place on May 10, 2019. One of our longtime residents, Bob Fuller, also known as "Uncle Bob," ended his life in accordance with the Death with Dignity Act, which went into effect on March 5, 2009. Earlier this year, Fuller had been diagnosed with terminal cancer and given less than six months to live.  Under the Act, his physician could then prescribe a lethal dose of medication for Fuller to administer on his own when he chose.
Fuller invited everyone to a final party, a celebration of his life. The Primeau Place community room and the patio were colorfully decorated. Two long tables were laden with food.  Family and friends of Fuller filled the community room and patio on an exceptionally warm day. KING 5 television crews were filming the celebration. They had been filming Fuller during the last several weeks as he went about his daily routine. The story is expected to be shown on television sometime in July.
But before the celebration started, an unexpected event happened that took everyone by surprise. In a brief ceremony in his apartment, Fuller married Reese Baxter. Soon afterward, the couple rode the elevator down to the community room where they entered and were presented to the waiting crowd.
Around 1 p.m. in the community room, poly-cultural entertainment was provided by a number of his friends including Byron Schenkman and Friends, and St. Therese's Shades of Praise choir and musicians. Some lovely violin solos were performed by B.J. Montoya and "Ave Maria" was sung by soprano Cathy Stegman. An original poem, that I found very moving, was read by Chelsey Richardson. Fuller sat quietly at his table of honor – taking it all in. 
The music concluded with two lively songs that got the room rocking enough to make one forget the solemn occasion we had all gathered for.
Yes, it was a celebration of life, and Fuller had lived his life well, always oriented toward helping others. He was a registered nurse who worked with psychiatric patients. In retirement, he did volunteer work for Seattle Area Support Groups and served as a backup manager for several years at Primeau Place. 
In the twelve and a half years I've known him, he has always been honest, dependable, generous and sensible in his relations with his neighbors and blessed with a sense of humor.
When the party finally broke up downstairs, Fuller returned to his fourth floor apartment, followed by many of his friends. There, he changed clothes in his room and got into his hospital bed. With the apartment full of people, he took the medication at 3 p.m.  As he drifted off to sleep, I hope he was able to feel all the love being expressed his way.
Fuller believed in living his life "out loud." He fought against HIV/AIDS for many years and was a recovering alcoholic, active in AA, but he never tried to hide his adversities. So it was fitting that he announced his decision to die on Facebook and Twitter. 
I believe he wanted to show by example an open and dignified way to die while celebrating life at the same time.  Death is a part of life.  He was seventy-five years old.
Below is additional information about the Death with Dignity Act and resources for grief: