Race and Social Justice Initiative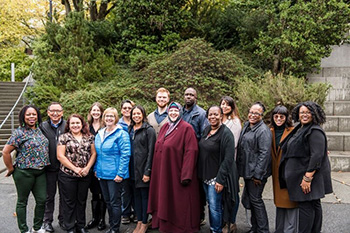 The Seattle Housing Authority's Race and Social Justice Initiative (RSJI) is an agency-wide effort to educate staff on the effects of racism and its impacts on the work of Seattle Housing Authority, its employees, residents, and stakeholders, and eliminate the effects of institutional racism within SHA by examining SHA's policies and procedures and modifying those that have negative impacts. 
Our vision for race and social justice at SHA is:
Full equity (no racial or other social justice disparities) in all SHA practices and procedures;
SHA applicants, residents and tenants, employees and partners are treated with equity and with respect;
SHA is an active partner and a leader in the movement to end homelessness, housing instability, and poverty in Seattle;
SHA has clear, institutionalized strategy for establishing trust with and accountability to the people with low incomes that we exist to serve; and
SHA employees provide service to the community in a culturally competent way and work proactively to apply a race and social justice lens in their work.

The Race and Social Justice Initiative is supported by an agency-wide committee of employees from diverse backgrounds and roles within SHA who are focused on providing training, tools and resources for all SHA employees to work proactively for race and social justice equity.
News from the RSJI

For more information about the Race and Social Justice Initiative, please contact Tera Oglesby, Manager-Staff Career Development & the RSJI.