Race and Social Justice Initiative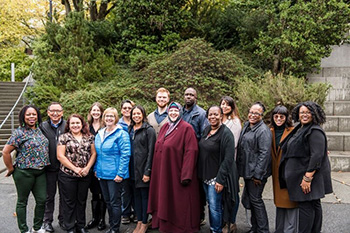 Mission: Seattle Housing Authority's Race and Social Justice Initiative is an agency wide effort to: educate staff on the effects of racism and other oppressions on the work of SHA, our employees, residents and stakeholders; and eliminate institutional racism and other oppressions at SHA by examining the impact of our policies and practices - and changing our policies and practices when needed to advance equity
Vision: In all aspects of our operations, Seattle Housing Authority is committed to working actively to advance race and social justice equity for our employees and for those we serve. We understand and use our unique role and influence to help end the disparities in the housing, education, employment, health, criminal justice and other systems that impact SHA applicants and participants.
The Race and Social Justice Initiative is supported by an agency-wide committee of employees from diverse backgrounds and roles within SHA who are focused on providing training, tools and resources for all SHA employees to work proactively for race and social justice equity.
News from the RSJI
SHA Board Passes Resolution 5193 relating to race and social justice, denouncing racism and social injustice, committing the Seattle Housing Authority to an active role in eliminating racism in all its forms in Housing Authority administration and operations and dedicating the Housing Authority to social justice in all its activities. 
Race and Social Justice Guiding Questions - SHA employees are encouraged to consider these race and social justice questions when making day-to-day decisions in their work team.
Race and Social Justice Toolkit - SHA has developed this structured, 6 step process based on the City of Seattle's Racial Equity Toolkit to support employees in checking proactively for the race and social impacts of SHA policies, procedures and practices.
RSJI Training for SHA Employees - All SHA employees complete a 4.5 hour RSJI Foundation training, which focuses on: the mission and purpose of the SHA's Race and Social Justice Initiative; the difference between individual, institutional and systemic racism, and between explicit and implicit bias; and the role of SHA employees and departments in working proactively for race and social justice equity. In addition, SHA's Human Resources Department coordinates ongoing training for SHA employees on how to work proactively to advance race and social justice equity.
For more information about the Race and Social Justice Initiative, please contact Tera Oglesby, Manager-Employee Career Development and the Race and Social Justice Initiative (RSJI), Seattle Human Resources Department