Race and Social Justice Initiative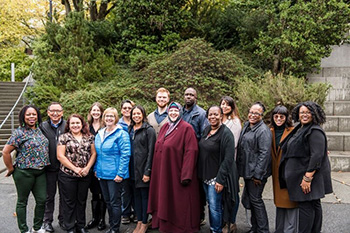 The Seattle Housing Authority is the largest provider of affordable housing in Seattle. Through a variety of programs, SHA provides housing assistance and services to more than 37,000 people in more than 18,000 households, including families with children and teens, seniors and adults with disabilities, and other adults.   
 SHA is committed to serving people regardless of their race, ethnicity, age, ability, gender identity, sexual orientation, religion, class background, indigenous background, language or national origin.   
In all aspects of our operations, we work actively to advance race and social justice equity for our employees, those we serve and the greater community. We are also committed to help end systemic disparities in housing, education, employment, health, criminal justice and other systems.   
SHA's Race and Social Justice Initiative is supported by an agency-wide committee of employees from diverse backgrounds and roles within SHA who are focused on providing training, tools and resources for all SHA employees to work proactively for race and social justice equity.  
RSJI updates and resources
SHA Board Passes Resolution 5193 relating to race and social justice, denouncing racism and social injustice, committing the Seattle Housing Authority to an active role in eliminating racism in all its forms in Housing Authority administration and operations and dedicating the Housing Authority to social justice in all its activities. 
Race and Social Justice Guiding Questions - SHA employees are encouraged to consider these race and social justice questions when making day-to-day decisions in their work team.
Race and Social Justice Toolkit - SHA has developed this structured, 6 step process based on the City of Seattle's Racial Equity Toolkit to support employees in checking proactively for the race and social impacts of SHA policies, procedures and practices.
All SHA employees are required to complete an 8-hour RSJI Foundation training and have ongoing access to frequent training programs to help them work proactively to advance race and social justice equity.
SHA sponsors 11 different employee Race and Social Justice Affinity Groups, which bring employees from shared racial and other social justice backgrounds together to build community with and support for each other and make recommendations collectively about race and social justice issues and actions.
For more information about the Race and Social Justice Initiative, please contact Tera Oglesby, Strategic Advisor or Kenyatta Bizzell, RSJ Coordinator.