High Point Redevelopment Plan
Between 2000 and 2010, High Point was redeveloped into a new mixed-income neighborhood. The Seattle Housing Authority worked with recognized design professionals, High Point residents, and West Seattle community members to create High Point's award-winning redevelopment plan.
The plan is centered on three major themes: quality design, a healthy environment and an engaged community. The redevelopment created a safe, high-quality, and healthy residential environment with a range of housing types, and reintegrated High Point with the surrounding community.
Reconnecting with West Seattle
The newly built streets were realigned and reconnected with the West Seattle grid, new neighborhood facilities and community services opened at inviting locations, and the mix of housing and resident income levels is more compatible with the greater neighborhood.
From the start, redevelopment planning included residents and community members. Through many meetings and collaborative design workshops, the residents and planners kept their eyes on making High Point a home for children and people of all ages and cultures. More than 450 High Point residents and their West Seattle neighbors participated in a design survey and hands-on workshop that considered what the redeveloped High Point should look like.
Planning for open spaces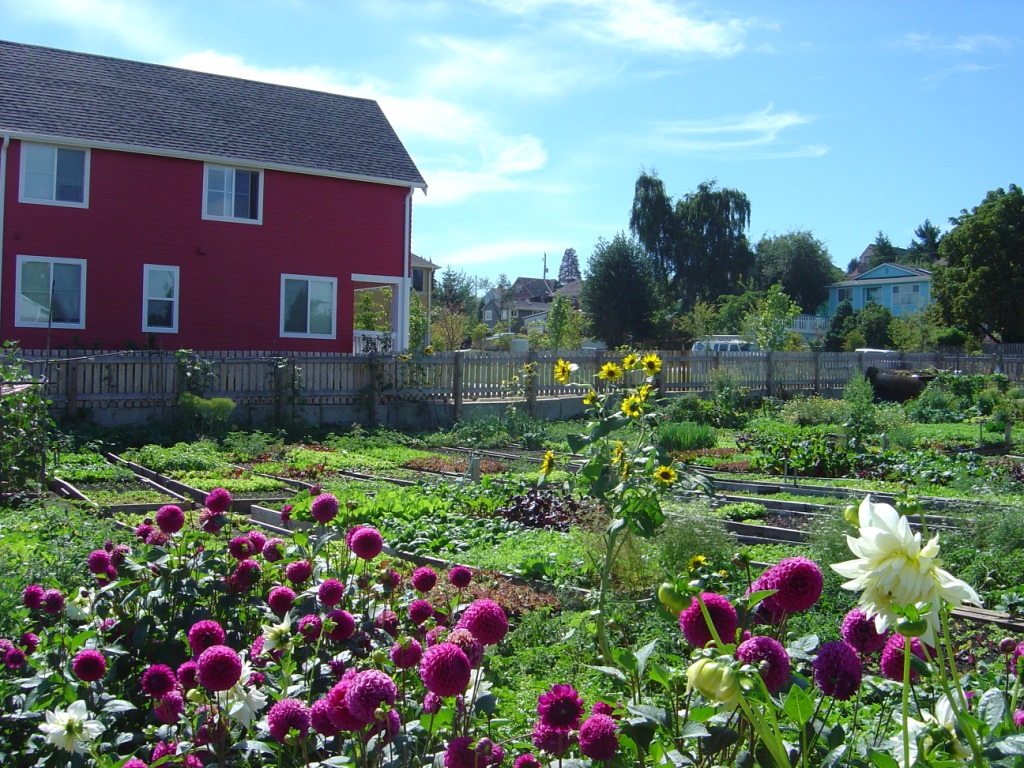 To maintain the green, garden-like feel, the plan designated over 20 acres of land for parks, open spaces, and playgrounds. A four-acre central park is at the heart of the community. Another park features a large pond and a jogging trail, and several other community and pocket parks are scattered throughout High Point.
Even planting strips along streets are greener and wider than elsewhere in Seattle. The plan tripled the number of previously existing trees. More than 100 mature trees were preserved, and about 2,600 new trees were added along streets and in parks. 
Creating a livable mixed-income community
Following a decade-long redevelopment, nearly 1,600 residential units are located within High Point. Most homes have private yards and porches, and sit on safe streets with controlled traffic. The homes show great variety in architecture, with varying character and styles on each block.
The completed High Point provides housing for residents spanning a broad income range, as follows:
| | | |
| --- | --- | --- |
| Housing type | Income Category | Units |
| For-sale housing | Market rate | 538 |
| Rental apartments | Market rate | 104 |
| Public housing | Very low income | 350 |
| Affordable rental housing | Low income | 250 |
| Senior housing | Market rate | 156 |
| Senior housing | Very low income | 75 |
| Affordable for-sale housing | Low income | 56 |
| Units of on-site housing |   | 1,529 |
The redevelopment made it possible to also create 291housing units for extremely low income residents outside the High Point footprint. Additionally, 397 new housing assistance vouchers, connected to the redevelopment, provide long-term subsidy for extremely low-income families. 

Financing
In total, approximately $550 million was invested in the redevelopment of High Point. This money was used for the construction of energy-efficient public and private housing, the development of infrastructure—including High Point's innovative natural drainage system—and the creation of parks, community gardens, open spaces, the library, the Neighborhood Campus, and more.
| | |
| --- | --- |
| Funding source | Amount |
| Private investment | $285,000,000 |
| Other public funding | $106,000,000 |
| Tax-exempt borrowing | $68,000,000 |
| Tax credit partnership equity | $56,000,000 |
| HOPE VI grant | $35,000,000 |
| Total investment | $550,000,000 |