Viaduct Closure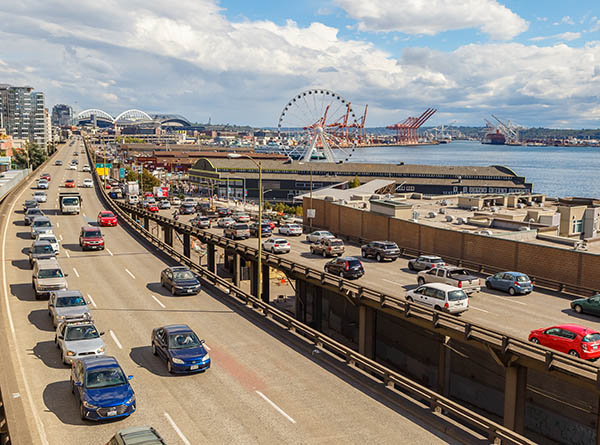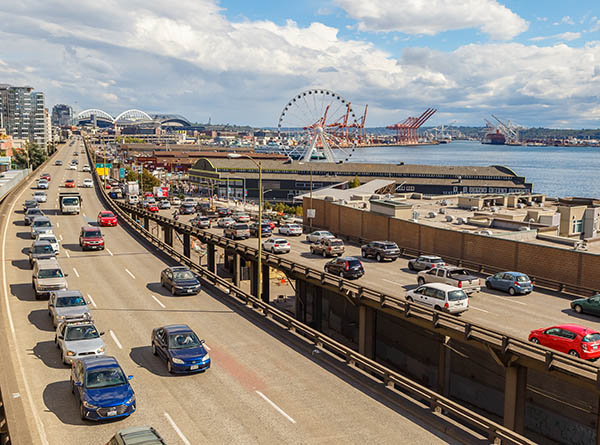 On Friday, January 11 at 10 p.m., the Alaskan Way Viaduct, the elevated roadway along the Seattle waterfront, will close permanently. The new tunnel that replaces this section of State Route 99 will not open for several more weeks and traffic will be rerouted in the meantime. The highway will be closed from South Spokane St. to the south end of the Battery Street Tunnel for approximately three weeks to allow workers to realign the highway into the tunnel. This will cause traffic impacts for everyone traveling to and around downtown Seattle via most any route.
There will be a number of options to getting around and through downtown Seattle. Here are some resources and helpful links so you can be prepared and plan your commute ahead of time.
SR 99 Closure
For the first few weeks, the Alaskan Way Viaduct section of SR 99, and approaches to it, will be closed with no access to the new tunnel. There will also be additional ramp closures, which could mean up to six weeks of acute traffic disruption, according to the Washington State Department of Transportation.
See the timeline of the Realign99 closure here
Select the language below for translated documents
Stadium Ramps Close
When: Friday, Jan. 4 at 10 p.m.
Closure: Northbound SR99 on-ramp at South Royal Brougham Way (near stadiums, connection to I-90 and I-5) Southbound SR99 off-ramp at South Atlantic Street (near stadiums, connection to I-90 and I-5) 
SR 99 Tunnel Opens
The new SR 99 tunnel will provide a direct route on SR 99 between the stadiums and the Space Needle. The tunnel will be two miles long and there will be two lanes in each direction, plus an eight-foot safety shoulder lane.
Learn more about the new SR 99 tunnel  
Downtown Seattle Transit Tunnel Closure
In March, bus services will no longer use the transit tunnel and will operate on surface streets. Bus routes that will be affected are 41, 74, 101,150, 255 and Sound Transit Express Route 550.
Click here for a map of the surface street stops
Alternative ways to changing your commute
For the first three weeks of the SR 99 closure, there will be significant impacts to those commuting to downtown Seattle. The Washington State Department of Transportation has identified alternatives and resources to alter your commute during the closure.
ADJUST YOUR TRAVEL TIMES
Avoiding peak travel times (6 a.m. to 10 a.m. and 3 p.m. to 7p.m.) or check current travel times before your commute.
TRANSIT OPTIONS
Plan your Metro bus trips outside peak commute hours to avoid traveling when buses are likely to be more crowded.  You can check the King County Metro's and Sound Transit's website for service updates and reroutes for buses that use the viaduct.
Adjust your travel time to avoid peak hours (typically 6 a.m. to 10 p.m. and 3 p.m. to 7 p.m.)
Bike or walk to your destination
Use alternative transit options such as the Water Taxi or light rail
Lyft and Uber are offering discounted rides to various transit hubs during the viaduct closure. Both companies will discount $2.75 from the cost of all shared rides from the following transit centers.
Lyft:
Burien Transit Center
Northgate Transit Center Park & Ride
Olson Place & Myers Way Park & Ride
Columbia City Station
Baker Station
Othello Station
Rainier Beach Station
Tukwila International Boulevard Station
University of Washington Station
West Seattle Water Taxi
Uber:
Northgate Transit Center
University of Washington Station
West Seattle water taxi at Seacrest Dock
Beacon Hill Station
Mount Baker Station
Columbia City Station
Othello Station
Rainier Beach Station
Tukwila International Boulevard Station
SeaTac Airport Station
Angle Lake Station
Burien Transit Center
For more resources and tools: https://www.seattletraffic.org/tools/